Eco-Challenge
Posted on 03. Apr, 2012 by Bradley in Community, Health | http://thenelsonpost.ca/2012/04/03/kids-and-parents-take-the-eco-challenge/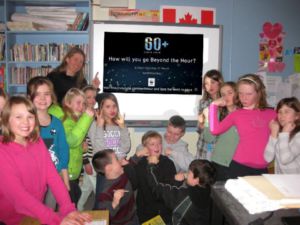 Press Release
Monica Nissen & class Beyond Recycling students 'tuned out' at Earth Hour, working all month on Eco-Challenge
Columbia Basin, B.C. — Beyond Recycling students in nine classes at eight schools in the Kootenays are participating in a one-month Eco-Challenge to reduce their energy use and lower their impact on the Earth.
To mark the beginning of this Eco-Challenge—and of greener habits—they marked Earth Hour last Saturday, March 31, at 8:30 pm. That means they turned off the lights, unplugged the computers and experienced life without the buzz of all that electricity. Now, they plan to go 'beyond Earth Hour.'
"Students have been studying and debating as part of the Beyond Recycling curriculum," said Monica Nissen, Wildsight's Beyond Recycling program manager. "They're excited to see how they can reduce energy use in their own homes, how they can create less waste to go to landfills, and how they can support local food producers."
The Beyond Recycling blog is a flurry of activity, as students from Jaffray to Blewett have posted short articles on what they're learning in Beyond Recycling and why it's important to them.
"I liked this lesson today because it taught us what we can do to prevent climate change," wrote Kacie, a Grade 6 student at Twin Rivers Elementary in Castlegar.
(Read more at www.beyondrecycling.ca/blog.)
Nissen hopes parents of Beyond Recycling students will help conduct home energy and waste audits.
"The kids know how to do the audits," Nissen said, "but the parents know where the natural gas and electricity bills are, and have a better idea of how much garbage and recycling their families have each week."
Wildsight's Beyond Recycling education program works with partners at FortisBC and the RDCK to deliver Beyond Recycling to different classes around the Columbia Basin every year. It's a 20-week curriculum that covers a lot of ground. In the Nelson area, students at Blewett Elementary School, Trafalgar Middle School and Brent Kennedy Elementary School are participating this year.
"When you add it all up," Nissen said, "figures show if everyone on the planet lived like North Americans, we'd need more than five more planets to meet everyone's needs."
"Kids grasp how untenable this is. They want to do something about it. And they can—but it really helps to have their parents on side.
"Let yourself be inspired by your child's commitment to action," Nissen said. "And have a great Eco-Challenge—and beyond."