Identify Holidays – Use your notes about holidays, pro-D days, and special school events from your Teacher Meeting to map out your schedule. Hint: Don't schedule your lessons close to the Christmas holidays as most schools almost always have special activities that pop up.
❏ Start & End time – We recommend starting in October and ending in May, if you are teaching once a week. Check if your schedule allows the Food lessons to happen when food can be grown, or if Earth Day activities happen near Earth Day.
❏ Check the Order – The BR lessons are designed to be taught in a particular order to build the students' knowledge as they progress throughout the program.
❏ Teacher Taught – We recommend scheduling at least 2 Educator-led lessons between each TT lesson so your teacher doesn't get overloaded. Double check your schedule to see that there is space between each of the the TT lessons. Check that your schedule doesn't start with a Teacher Taught lesson after school breaks (Xmas, spring break).
❏ Include Extra Days – Activities such as EcoChallenge activities and Earth Day can add class time to your schedule, so either include extra days or be aware the calendar will most likely be changing some over the year.
❏ Remember the Chunks – When setting your schedule, also please make sure that certain lessons are not separated by school holidays. Check that the following are together:
Chunk 1 – Garbology, History of Waste, It's All From the Earth
Chunk 2 – Lifecycle, It's a Plastic World, Closing the Loop
Chunk 3 – Our Energy, Path of Power, Energy Debates
Chunk 4 – EcoFootprint, Sustainability
Chunk 5 – True Cost of Food, Good Food Field Trip, Real Food Potluck
❏ Include Mini Meetings – Don't forget to add these into your schedule. These meetings will help you and your teacher with planning, Teacher Taught lesson support and scheduling. Make sure they are evenly spaced throughout the program. For once a week lessons, we recommend meeting in the New Year (before 2nd teacher taught, to iron out the schedule, prep for debate, EcoChallenge check in), then one around Spring Break (plan food lessons, field trips, Earth Day, EcoChallenge check in).
❏ Flexible Lessons – There are certain lessons that are more flexible in where they can be placed in the schedule, if need be. These include: Waste Field Trip, Papermaking, Our Changing Climate, Transportation (be very careful if rescheduling this one as it is a TT), Our Water and Fishing for Sustainability.
❏ Schedule Examples – To see some examples of how you can set up your BR program schedule, check out the link on https://beyondrecycling.ca/starting-beyond-recycling/
❏ Email your Teacher – Send your draft schedule to your teacher. Ask for them to review the draft and see if they see any conflicts. Keep adjusting until it works. Recognize that although the schedule will most likely change with unforeseen school events, etc., creating this schedule for the year helps you and the teacher in seeing the overall plan. Although it is important to communicate about the whole program schedule, it can be nice to focus on the schedule just till Christmas break.
PROGRAM SCHEDULE EXAMPLES
Included below are examples to help you set your BR schedule. Please note that these are not set in stone, but just examples. Please note that you would also need to add days in your schedule to include your extra days for Extension Activities, Earth Day and the EcoChallenge.
Also included is a Lesson Schedule Chart that is a handy reference for both you and your teacher. Ideally, this should also be included in your Teacher Manual.
Once A Week Program Schedules
This schedule includes a one lesson Earth Day activity. Note that no lessons are taught on either side of the Christmas holidays as this is an extremely busy time of year. Also, the Real Food Potluck (EcoChallenge Extension Activity) and Good Food Field Trip events are scheduled in the same week.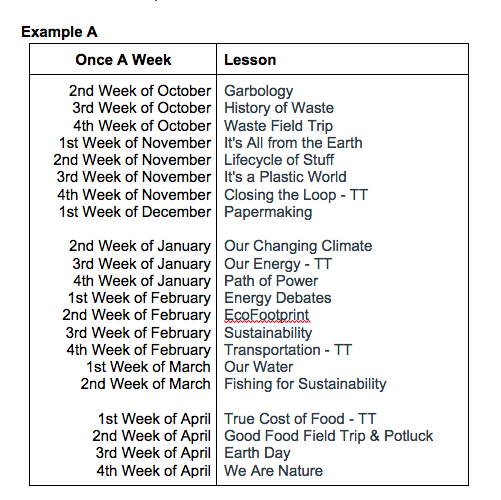 The Example B schedule includes a two-lesson Earth Day activity (Trash 2 Treasure) and the Real Food Potluck (EcoChallenge Extension Activity). This example has papermaking before the Xmas break, introduces the Earth Day project before spring break, and has one lesson scheduled after the break to give students another reminder before the project is due.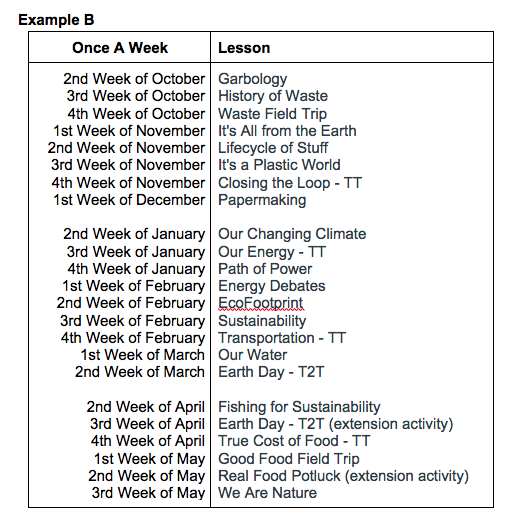 Twice a Week Program Schedules
The Example C schedule includes just a one lesson Earth Day activity. The Waste Field Trip is taken at the end of the year in this scenario as it is too cold to visit in the winter when the program starts.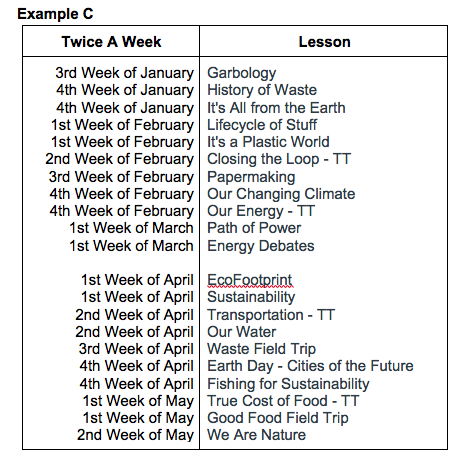 In this example, there is only one class during the weeks with bigger lessons or field trips. Also, there is a big break between 2 chunks of BR lesson to allow for the food based lessons to take place in the warmer months.