Students at Canal Flat's Martin Morigeau Grade 4 – 7 class love hands-on learning. So help meet their learning style and provide a fun way to learn about nutritious & natural foods made from scratch, five teams of students participated in a cook off!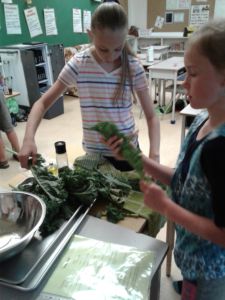 Teams were given 30 minutes to read their recipe, find their ingredients, and prepare their dish. No time was wasted as students dove into their task, working together as a team and including everyone. New learning was evident in each group as they used ingredients or tools unfamiliar to them, such as kale, dates, or whole ginger as well as a juicer, food processor, and hand-held mixer.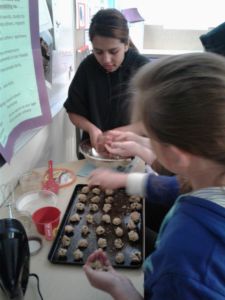 At the end of 30 minutes groups returned to present what they had made, how they'd made it and what ingredients were used. The snacks made included: chocolate 'mystery' pudding (sneakily included avocado), kale chips, energy balls, two types of fresh juice and bruschetta.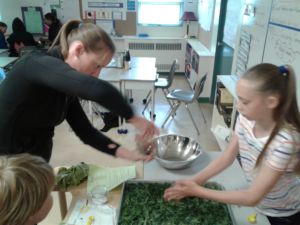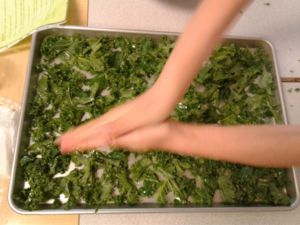 Students eagerly tried all of the foods, even though many had never tried the dishes prepared and were slightly tentative at first. Salty kale chips were a complete hit, as were the garlicky bruschetta washed down with green juice. No one could say no to desserts of chocolate pudding and energy balls with chocolate chips.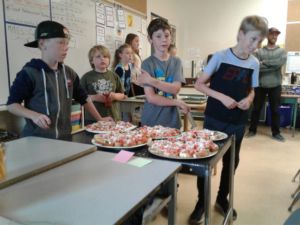 Afterwards, the teacher, student educational assistant and principal all remarked at how completely focussed the students were. A suggestion was made to run a cooking life skills class at Martin Morigeau School next year as cooking involves literacy (reading the recipe), math (conversions when doubling or using measuring cups/spoons), health education (positive food choices), teamwork, life skills and more! Here's hoping we'll see an exciting cooking element added to the curriculum at Martin Morigeau next year!