We are so lucky in Creston that we have access to so much local food! Canyon-Lister Elementary School is at the heart of this agricultural community with orchards, market gardens, grain fields and livestock all within 5 km of the school. Many of the students at this school live on working farms. For our lessons on food Ms Ritter's grade 4/5 and Mr Mitchell's grade 6/7 classes managed to do a few activities to explore the idea of eating local.
We went on a field trip to Kootenay Meadows this year to take a look at the milk bottling, the cheese making and all the cows at this organic dairy. We saw many sustainable solutions in how they reuse their bottles, manage their pastures for soil health, use solar hot water for cleaning and use waste whey from the cheese making process to fertilize their pastures.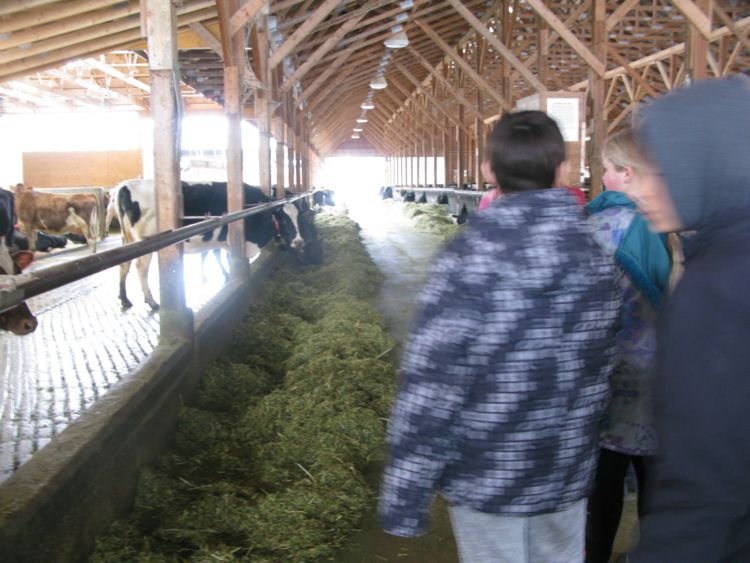 We also created a celebratory feast full of food from some of the local farms. Since it was late winter/early spring, fresh ingredients were somewhat limited but we managed to make a delicious feast! There is a kitchen in the school and the students took turns helping to prepare food for their class. We made baking powder biscuits from Treasure Life Mill flour (Canyon) and Kootenay Meadows milk (Lister). We made baked potatoes from Full Circle Farm (Canyon) with Pacific Ocean sea salt (SaltSpring Island). On the side note, the potatoes from Full Circle Farm were plowed and harvested using a solar tractor! We also had apple slices (Okanagan) and carrot sticks (USA). We discussed how might be eating different foods if we were making the food in June or September, or if I had stored more carrots and apples in my root cellar!
Canyon Lister Elementary School also has plans this spring to put up a school greenhouse so maybe in the future we will be eating a feast of local salad greens in the early spring from the school grounds!