Have you ever eaten honeycomb fresh from the hive, with the delightful gentle buzz of the relentless hard working bees above your head? We experienced just this as the bees made a beeline for the leisure centre, otherwise known as a koi pond and shall leaf shaped pool installed for them by owners, farmers and good food good feeling people Sarah and Stu.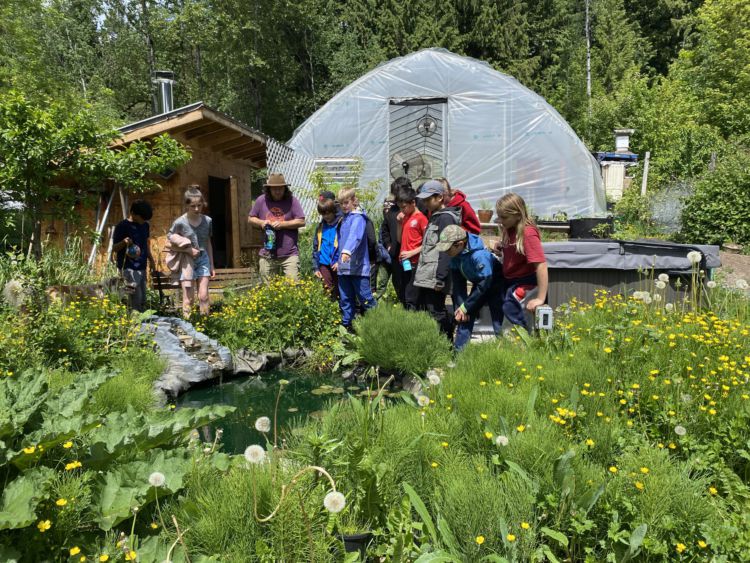 The Leisure Centre – home to Koi and bees sunbathing and having a paddle
Unlike wasps (I learned last week on this field trip), bees cannot float on the surface of the water and so they need somewhere to access this basic but most important resource. They are well cared for at Track St Growers, where the entire pond was based around supporting the needs of the bees that thrive in their seven hives around the property. At their Track St smallholding they create unique 'Stoke The Fire' hot sauce from peppers they grow, grow and host an annual garlic festival, supplement their sauce and souls with honey, throwing in some mycellium network building and egg whispering just for fun. This farm is the genius love project small-holding of locals Sarah Harper and Stu Smith.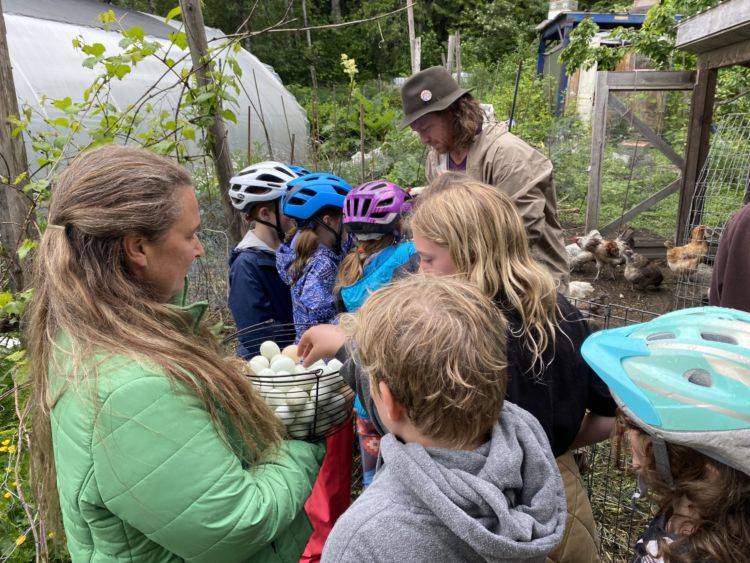 Sarah in Green holding the freshest of eggs from their happy chooks, and Stu is doing some chicken therapy petting in the back
I'll skip ahead to end of the field trip where we took the chance to ask the Grade 5/6 students for a word that expressed what they learned or felt about their time on the farm that today – 'Grateful', 'Natural', 'Delicious', 'Local', 'Loving', 'Free range' were some of the few shared around the circle. This place invoked not only love for the flora and fauna flourishing there but for the feeling invoked when you see local people caring for your environment and ensuring the sustainable production of food for future generations.
Let's head back into the experience though – whether it was Stu calling up the chickens to ask if it was ok to have a look at their eggs or sharing the secrets to a perfect compost pile (it includes some green, some brown and a snowblower?!), or Sarah waxing (ha) lyrical about the possibilities of beekeeping and the majesty of the process, the kids were delighted. Not only by the honeycomb and hot sauce tasting but by the feel and adventure of this multifaceted place. Smiles abound.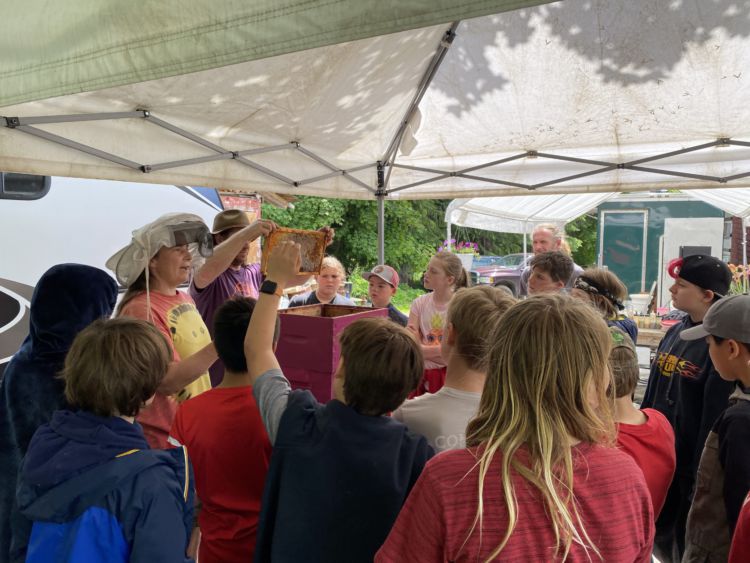 Sarah describes the intricacies and drama of hive life while Stu shows the different stages of building a hive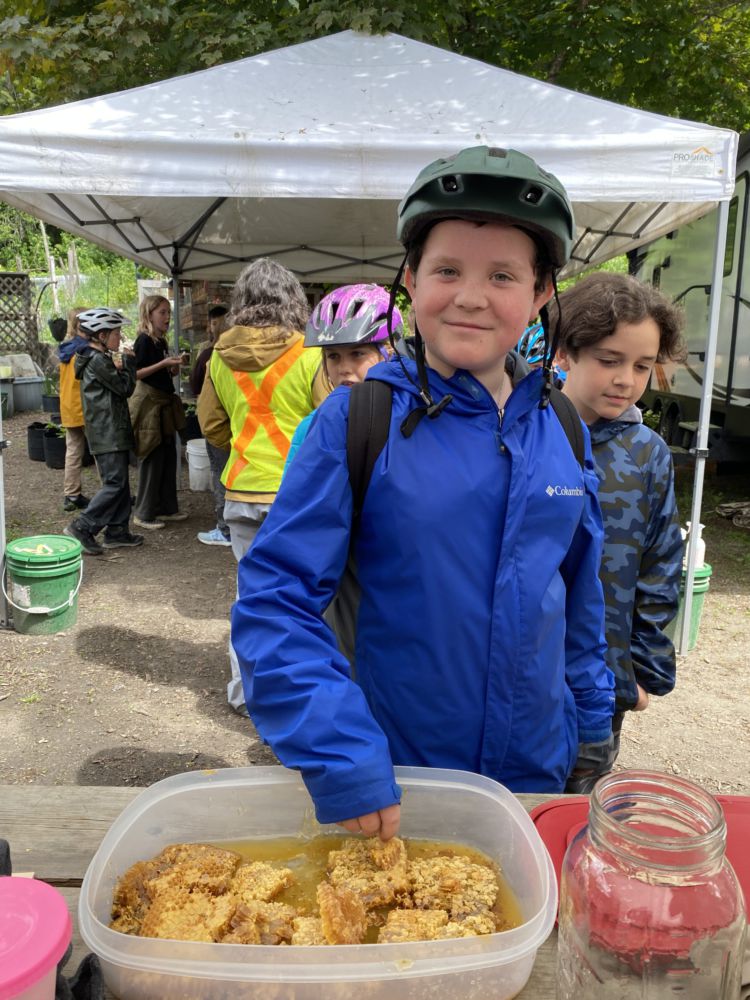 Cole demonstrates the perfect smile of someone about to dive into the freshest honeycomb on Earth
The flavour of the honeycomb was indescribable, the hot sauces unique in their name and flavour – 'Blueberry Bear Spray' anyone?! but the connections between students, teachers and the environment was the most tangible takeaway from these two magical trips by Begbie View and Arrow Heights Elementary students on a day that started wet for our first class' sustainable cycle to the site.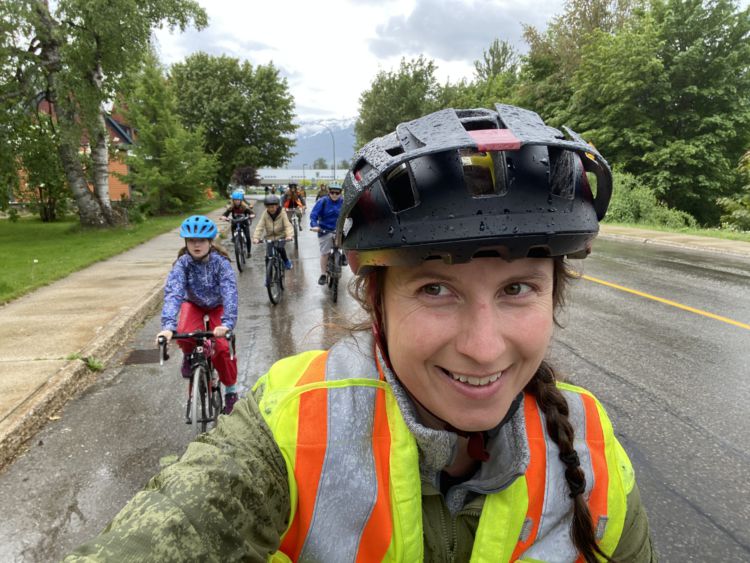 Educator Jade Harvey keeping an eye on the travelling team!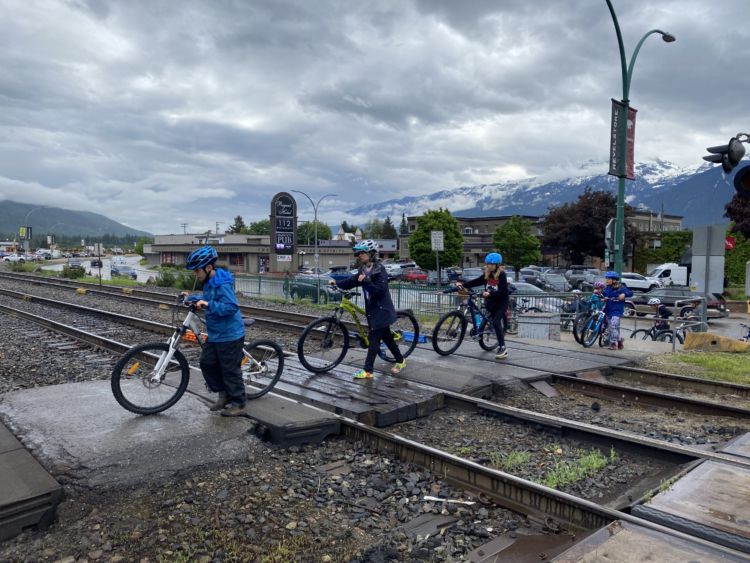 Welcome to Revelstoke, crossing the tracks to 'Track St Growers' place.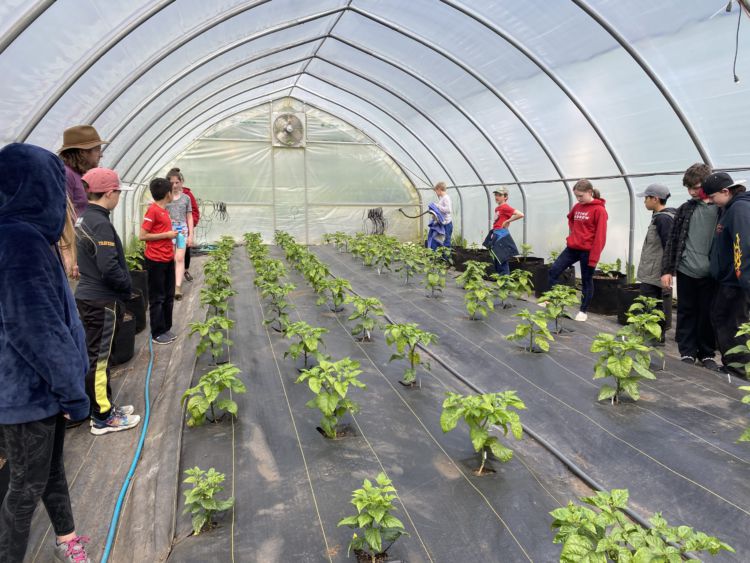 There was talk about how best to keep plants healthy, in a holistic way and the importance of air flow for these heat loving plants.
Farms like this are so important for sharing about food security, they are a haven for sustainable agriculture practices to continue, to do great work to combat emissions from transporting and importing food that influences our changing climate and for students to see where delicious things come from. The ground. In their place. Surrounded by clucking hens and bountiful native pollinator loving plants and lots of lovely hiding spaces for hibernating insects. How they avoid bears (dogs and good compost health practice) and what it means to care for Mother Earth while receiving her gifts and gifting back in equal return.
'hopeful', 'optimistic', 'connected', 'joyful'.
Some of the other words shared around our final sharing circle. Yes indeed. There is great work being some by some individuals and we were so grateful to Sarah and Stu for sharing their knowledge, passion and the fun they have growing and caring for plants and animals with us all.
You can find more about Track St. Growers and their delicious products here.