Our grade 6 class at Columbia Park has been working hard on an Eco Challenge to reduce waste and promote sustainability. As part of this challenge, we've been collecting recyclable materials and counting them on a weekly basis. For Earth Day, we decided to take things up a notch by participating in our local 'Trashion Show' event put on by Birch and Lace in downtown Revelstoke. The whole street is closed off for the event and their is live music, prizes and of course the trashion show, complete with commentary, judges and spectators!
The Trashion Show is an event where participants create outfits made entirely of recycled materials. We collectively designed three outfits, and the students had access to clothing donated by Jenise at Forage and Fill (We are heading there for a field trip as extension of this eco challenge). The collaboration with a local business not only helped to make the project more fun and engaging for the students, but also fostered a sense of community involvement in the initiative.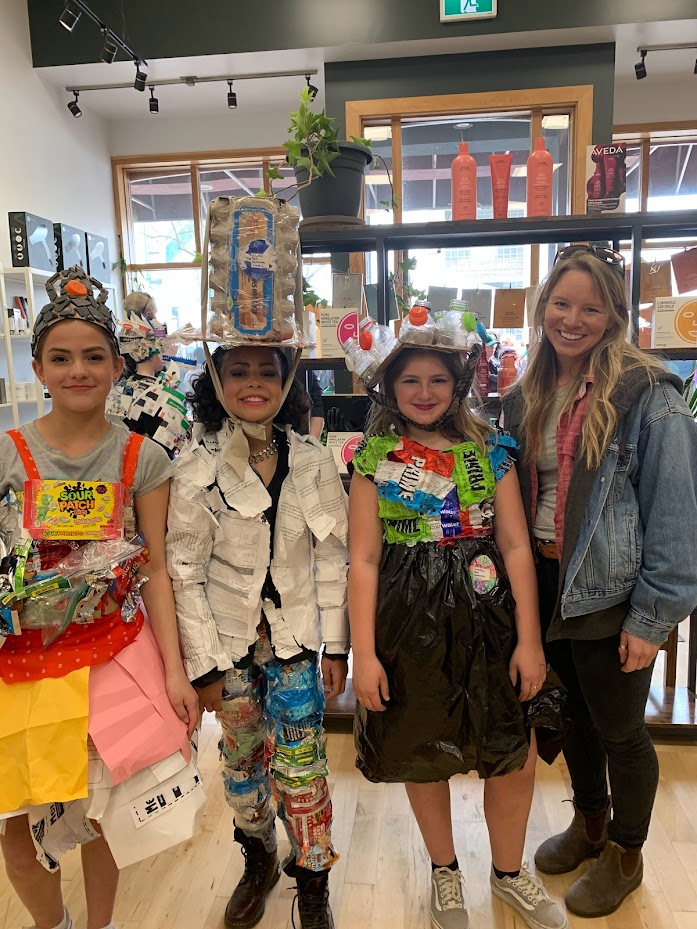 Each outfit had a name and a story, and we were excited to share them with everyone at the Trashion Show
Here they are:
Sophia – Trasharina
The Trasharina was a group effort of seven grade 6 students, and the inspiration was a ballerina made of trash. Our top features a corset bedazzled with snack wrappers from our class, and the skirt is a tutu made of recycled homework from classes around our school. We used materials such as cardboard, homework, wrappers, and donated fabrics.
Rhoda – Trashedo
Our Trashedo outfit was also a group effort, and we were inspired by the classic tuxedo. We turned our school trash into an "eggselent" tuxedo, collecting snack wrappers from our class to use for our pants and digging up old homework for our blazer. Our top hat completes the look using old egg cartons we brought in from home. Materials used include snack wrappers, old homework, egg cartons, cardboard, and donated fabrics.
Cadence – Princess in her Prime
Our grade 6 class is crazy about Prime Hydration drinks! We had so many bottles in our class that we decided to make a crown with them. We also used the Prime wrappers for our top. We used old lamination plastic and cardboard for our shoes, and took garbage bags that weren't quite full yet from around our school to make our skirt. We used materials such as reused garbage bags, Prime hydration drink bottles, homework and recycled cardboard, scrap lamination, and old fabric that was donated.
We learned so much by this process and have a greater appreciation for how long it takes to make clothing!
The Trashion Show was a great success, and we were proud to show off our outfits to everyone. We hope to inspire others to reduce waste and promote sustainability in their own communities