Oven temperature: low 20'C's
Preparation time: 1 – 2 hours
Feeds: 27 students from Ms. Wilisky's Grade 5/6 class from JA Laird Elementary
Directions:
a) Teach students about what "real" food means through Beyond Recycling's "True Cost of Food" lesson. This includes foods that are near (locally grown & fresh), natural (not processed), naked (little or no packaging), nutritious (healthy for you), and now (grown in season or stored).
b) Learn where food is produced locally. Ms. Wilisky's class visited Windermere's Edible Acres Farm-Cafe-and Catering, where they learned about the variety of vegetables, herbs, flowers, and fruits grown there. Students even got their hands in the dirt by planting hundreds of seedlings.
c) Challenge students to bring in food that meets one or more of the requirements of Beyond Recycling's five N's: near, natural, naked, nutritious, or now.
d) Book the bus, gather utensils and plates, hope for good weather, and wait until the big day.
e) Bring foods to the beach and have students present what they brought and how their dish meets some or all of the five qualities of real food.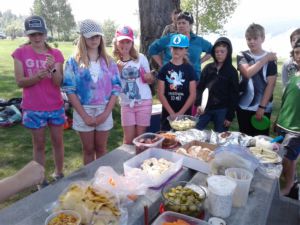 f) Enjoy the feast of pickled Creston asparagus & carrots, backyard rhubarb, Windermere jam, devilled eggs from backyard chickens, dandelion petal cookies, sausage made from locally caught deer, and more!