It's time. There's nervous grins, shuffling feet and butterflies in the tummies of the Grade 4/5 class at Begbie View Elementary in Revelstoke. For most, this will be the first time giving a formal public presentation. As an educator I know how nerve-wracking it can be to stand in front of a class and have to share your information – so I was incredibly proud at their efforts.
This fearless class shared the Lifecycle Stories of six, commonly used products, (Pencil, Aluminium Can, Jeans, Glass Bottle, Soccer Ball and Batteries) from extraction of resources, through to their disposal. Each student chose to create a bright, visual poster for each stage, projected onto the whiteboard at the front, and worked together in a team to deliver a cohesive presentation to the class that covered the lifecycle process and the impacts that occur as these products are made.
Round of applause – you did a great job team! 🙌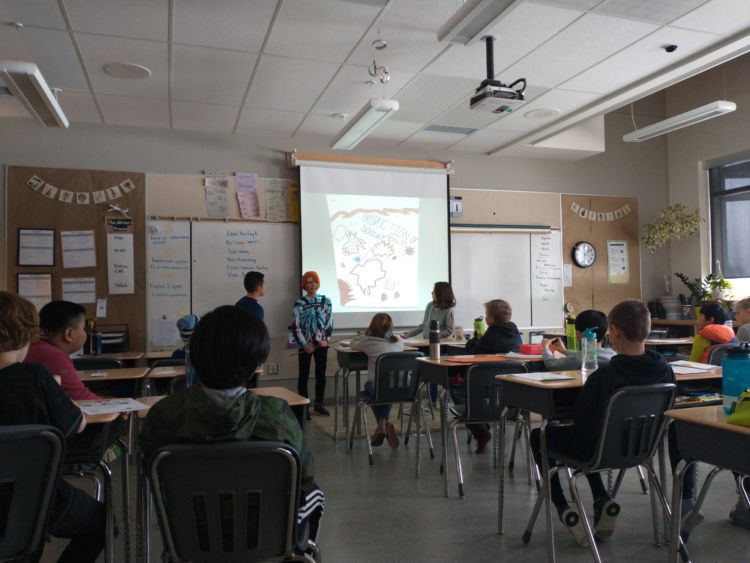 Taking their concern and knowledge further, the students then utilised the research from our Beyond Recycling lesson, into their English class and a persuasive writing assignment. A Grade 5 student Mia shared 'we feel that we are the next generation to save the earth. We learn about how to stop climate change by participating in the Beyond Recycling program at school.'
The question the students were asked to persuasively write about, or share their evidence for was
'Are kids today or 100 years ago more environmentally responsible?'
As is so often the case with climate, opinions were polarised but supported by great research; Angelo writes 'Did you know 2.1kg of garbage are getting thrown out every day by Canadian's?" Morgan found out that that equates to 1040 plastic bags. Yuck! That's certainly some points against modern kids.
Amelia was amazed that our that our plastic usage has increased by 361%. It's not just the amount of stuff, Dayton pointed out, but that our new products and technology produce toxins and chemicals. Taiki thinks that we are beginning to recognise our mistakes and 'kid's today are more thoughtful of the Earth'.
Miguel countered that by sharing his about the factories and levels of mechanical waste produced when our technology breaks. Pernilla found out that the average kid throws out at least three pieces of technology each year! That's a huge amount!
Next, Corban touched on the point that we use a lot of fossil fuels in driving cars still, but Jacelle realises that we can change our behaviour to walk or bike more and this will help pollute less. Lincoln even suggests scootering (fun) or horseback riding (super fun!). Vincent pointed that there is the issue today, that even if we have the technology to recycle that many people still do not, and we still use too many new things as a society.
On the other side, Emma loves how much participation youth are involved in today including the 'Friday for Future' student climate rally that Revelstoke students took part in. Hazel is optimistic and points out the small changes that her family and other people can do to make a real difference 'we use cloth bags when we go to the grocery store'. Caleb bought up a superb point about using technology, not only as renewable energy but to communicate about climate issues, using twitter for example.
Miller shows us that kids today are 'reusing more and speaking' up. A key way to tackle climate change.
You can see the full independent works of these incredible students here: Persuasive Enviro Writing and decide for yourself if we are more or less environmentally sustainable than our previous generations. I think a key take away is the optimism and positivity looking forward. These students recognise there are solutions, innovations are happening everywhere, and age doesn't have to stop you – young or old can get involved! That means you!
Welcome to the next generation of Climate Caring Superstars. You make me feel excited to see what you come up with. Grade 4/5's at Begbie View Elementary – you rock!