And so, without seemingly a moment's notice, the Holidays were upon us and as I write this time has ticked over to 2021! Happy New Year! Here's hoping for safety, health and security for all. I finished my year full of joy, by spending the month of December with the Grade 5/6 class at Columbia Park Elementary in Revelstoke.
Beginning our Beyond Recycling journey together started with an introduction to Garbology – the study of Garbage, and myself, Chief Garbologist Mrs Harvey. Here I am modelling the fetching suit, which given the pandemic, felt more fitting than perhaps in previous times!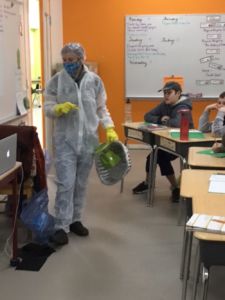 The Holiday Season was upon us, in our last class students had just returned from participating in a green screen recording of a Christmas concert, decorations fluttered above our heads and snow was gently falling outside the window. However our focus was not outside, but inside…the garbage can.
The introduction to students of talking, thinking, connecting with their garbage was a new one. This somewhat taboo subject, "out of sight, out of mind" was firmly rejected when I began my rummaging, first weighing their garbage and then sorting it into categories and re-weighing it after looking for recyclables or compostables (hint, we lost 90% of our mass when we did this, however personal paper towel is a hot topic at this moment and we agreed, in the current circumstances, in the bin was best!).
I was really impressed at how little waste these students produce. They are accountable for their own recyclables – they have to take them home which I think is a super idea of the school. This not only cuts down on food waste as they have a receptacle for scraps etc. which can make it back to the residential compost, but makes them accountable for thinking about reusable products and sharing that communication with parents.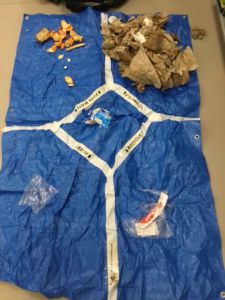 Students created a word map of things that they related to garbage, which began initially very negative, but as we began to think about how garbage we discovered it can be used and how it's not all completely disgusting. Less is best though. As we were right in that season a discussion was had about waste at Christmas – Did you Know? – Globally at Christmas time, our waste levels increase by 25-30%?! Yeesh. Not ideal. So we thought about ways we could reduce our waste each day, but especially over this time. Students thought about wrapping gifts in cloth that could be reused, or reusing wrap or gift bags from another occasion.
They really jumped on board. They also expressed their kind support for Beyond Recycling and our time together in the form of this beautiful handmade Christmas Card. I was so touched, so thank you Grade 5/6 at CPE and Ms Hall for your commitment and energy.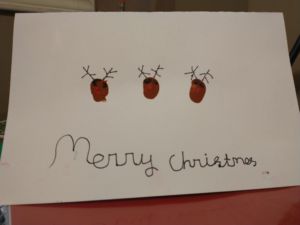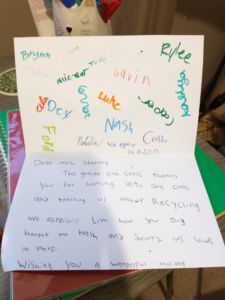 As the new year rolls in, what better time to delve deep in our misplaced habits and change the way we think, behave and utilise resources on our planet.
I for one am excited for the future!